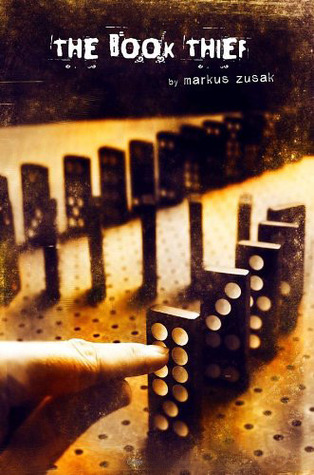 Title:
The Book Thief
Author:
Markus Zusak
Publication Date:
March 14, 2006
Genre:
Historical Fiction
It's just a small story really, about among other things: a girl, some words, an accordionist, some fanatical Germans, a Jewish fist-fighter, and quite a lot of thievery. . . .
Set during World War II in Germany, Markus Zusak's groundbreaking new novel is the story of Liesel Meminger, a foster girl living outside of Munich. Liesel scratches out a meager existence for herself by stealing when she encounters something she can't resist–books. With the help of her accordion-playing foster father, she learns to read and shares her stolen books with her neighbors during bombing raids as well as with the Jewish man hidden in her basement before he is marched to Dachau.
This is an unforgettable story about the ability of books to feed the soul. 
-Goodreads
"I have hated words and I have loved them, and I hope I have made them right." 
Warning: this will probably read less as a review and more as a love letter...of sorts.
I read this book three years ago, and to this day, The Book Thief still haunts me, silently but steadily remaining in the back of my mind. Three years ago, it was almost impossible for me to write a review for this novel, and it is unbearably difficult for me to muster up the words still.