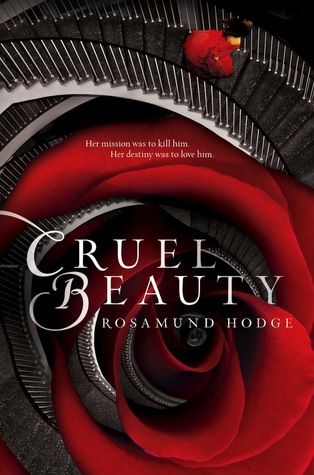 Title
: Cruel Beauty (Cruel Beauty Universe)
Author
: Rosamund Hodge
Genre
: Fairytale retelling
Publication Date
: January 28, 2014
Graceling meets Beauty and the Beast in this sweeping fantasy about one girl's journey to fulfill her destiny and the monster who gets in her way-by stealing her heart.
Based on the classic fairy tale Beauty and the Beast, Cruel Beauty is a dazzling love story about our deepest desires and their power to change our destiny.
Since birth, Nyx has been betrothed to the evil ruler of her kingdom-all because of a foolish bargain struck by her father. And since birth, she has been in training to kill him.
But Ignifex is not at all what Nyx expected. The strangely charming lord beguiles her, and his castle-a shifting maze of magical rooms-enthralls her.
As Nyx searches for a way to free her homeland by uncovering Ignifex's secrets, she finds herself unwillingly drawn to him. Even if she could bring herself to love her sworn enemy, how can she refuse her duty to kill him? With time running out, Nyx must decide what is more important: the future of her kingdom, or the man she was never supposed to love. -
Goodreads
As a child, Belle was always one of my favorite Disney characters. (I related to her so much. Probably because we both love reading and have brown hair xD). And as such, Beauty and the Beast was one of my favorite fairy tales. So, I was expecting to love this.
Did I?
It varies.
Cruel Beauty
, and I am still unable to articulate my thoughts of this book into words.
On the one hand, the writing was mesmerizing and atmosphere haunting. I was caught up in this book for hours on end.
On the other, Cruel Beauty has a lot of technical mistakes that nagged me quite a bit. The worldbuilding was confusing as heck, Nyx was annoyingly defiant (although I admit she did grow on me), and the ending was underwhelming.
Yet where I am completely torn is whether or not I should dismiss this book due to its clear faults, or rate it entirely on emotion - which encompasses anger to love to frustration and back again.
I both like and dislike how the relationship between Nyx and her sister was handled - to say the least, it was
very
unconventional. I appreciate how the author did not shy away from the more negative side, which you don't get very often in young adult fantasy, but I feel like the author left us hanging on their relationship.
Did I love Ignifex? No. But I found him intriguing and surprisingly well-developed. He is not a character I would have normally supported, but the amount of effort Hodge put into his characterization piqued my interest - admittedly against my will at first.
While I do understand that this is a fairytale retelling, I thought that Nyx, the protagonist, was far too dramatic and prone to overreacting. Like Ignifex, she was developed deeply, but she was not entirely likable or realistic. On the plus side, she was flawed and relatable and, overall, an unforgettable heroine.
Ugh. The romance, in my opinion, was not exactly "beautiful." As individuals, I liked both Nyx and Ignifex, but together? They weren't very compatible. I will admit that some parts were well done, but others bordered on sappy and angsty.
I'd consider this a light read despite its combined elements of dystopia, fantasy, and mythology. A very ambitious book, but it ended up lacking in some aspects and left me conflicted in others. Recommended to fans of
The Winner's Curse
who craved more emphasis on the romance.