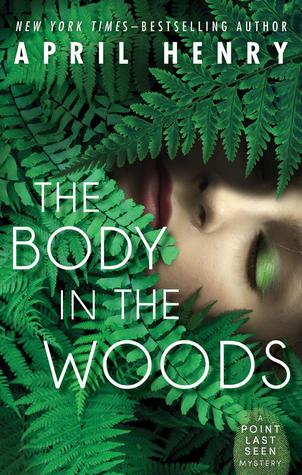 Title
: The Body In the Woods
Author
: April Henry
Publication Date
: June 17, 2014
Genre
: Mystery
In this new series told from multiple perspectives, teen members of a search and rescue team discover a dead body in the woods.
Alexis, Nick, and Ruby have very different backgrounds: Alexis has spent her life covering for her mom's mental illness, Nick's bravado hides his fear of not being good enough, and Ruby just wants to pursue her eccentric interests in a world that doesn't understand her. When the three teens join Portland County Sheriff's Search and Rescue, they are teamed up to search for a autistic man lost in the woods. What they find instead is a dead body. In a friendship that will be forged in danger, fear, and courage, the three team up to find the girl's killer—before he can strike one of their own.
This first book in April Henry's Point Last Seen YA mystery series is full of riveting suspense, putting readers in the middle of harrowing rescues and crime scene investigations. -
Goodreads
Thank you Henry Holt for sending me an Advanced Readers Copy of this book, which did not affect my review in any way.
I don't know why this is labeled a "thriller" when it definitely was not a thrill to read.
The above statement is the reason I was unable to complete this long-winded novel. One could argue that this isn't really my genre - well, not my
favorite
genre - so it's to be expected that it wouldn't hold my attention for very long. But sub-genres aside,
The Body in the Woods
fails in aspects that any good novel should not fail in - like writing, characters, etc.
Reason #1 for DNFing
: THE WRITING. I am a firm believer that in order for a novel to hold a reader's attention, the writing has to have that "spark." In other words, the prose shouldn't be as robotic and watered-down as it is in this book. And the third-person POV didn't help matters in the least, because it kept me disconnected from the characters and, frankly, bored me. I should have counted the amount of times I yawned while reading.
Reason #2
: THE CHARACTERS. You know those cardboard-insert-pop-star-pretty-boy-cutouts at least one of your friends has in their room? Yeah, that's how I imagine the characters in this book. Not that they're pretty-boy status or anything, but they are as two-dimensional as a piece of cardboard. True, if I continued reading, they probably would have been more developed,
but rattling off each character's qualities does not give the character depth.
Reason #3
: THE NEEDLESS DETAILS. Hence the
IDGAF
in the title. I really don't want a massive paragraph detailing/listing Alexis's food, because I really don't give an eff.
#4
: THE MYSTERY WAS ANYTHING BUT. Yeah, when a dead body is made up with green eyeshadow, the mystery is sort of hard to take seriously. Just sayin'.
Not that this book was excruciatingly long, but I simply could not read more than ten pages at a time. I had to force myself to continue reading, and once I hit about page 70, I'd had enough.
Skip this one. I've heard Henry's other novels are much better, so I might consider giving those a try.