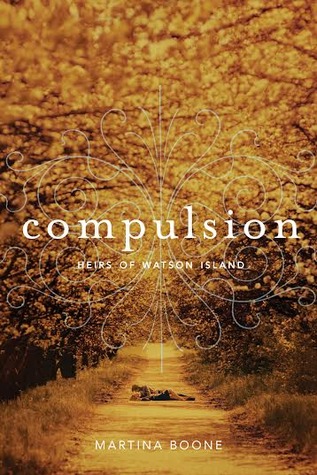 Title
: Compulsion (The Heirs of Watson Island #1)
Author
: Martina Boone
Publication Date
: October 28, 2014
Genre
: Fantasy/Southern Gothic
Three plantations. Two wishes. One ancient curse.
When loss is all you know, how do you find true love?
Beautiful Creatures meets The Body Finder in this spellbinding new trilogy.
All her life, Barrie Watson has been a virtual prisoner in the house where she lived with her shut-in mother. When her mother dies, Barrie promises to put some mileage on her stiletto heels. But she finds a new kind of prison at her aunt's South Carolina plantation instead--a prison guarded by an ancient spirit who long ago cursed one of the three founding families of Watson Island and gave the others magical gifts that became compulsions.
Stuck with the ghosts of a generations-old feud and hunted by forces she cannot see, Barrie must find a way to break free of the family legacy. With the help of sun-kissed Eight Beaufort, who knows what Barrie wants before she knows herself, the last Watson heir starts to unravel her family's twisted secrets. What she finds is dangerous: a love she never expected, a river that turns to fire at midnight, a gorgeous cousin who isn't what she seems, and very real enemies who want both Eight and Barrie dead.
-Goodreads
*Thank you Simon Pulse for sending me this copy, which did not affect my review in any way.*
Compulsion
is like a bag of chips.
Aside: I DON'T EVEN LIKE CHIPS
Before you exit that browser and mutter how much of a loon I am (which may or may not be true) let me explain. See, it's a metaphor for this book
I'M HUNGRY OKAY.
Take a look at this picture:
That is exactly how I would describe Compulsion by Martina Boone - it's 30% substance and 70% air; meaning, there isn't much complexity to this novel. It's not the first book that's like this, but I guess it's my fault that I was expecting more depth. Moreover, from the impression the blurb gave me, (hellooo it's described as a Southern Gothic) I was expecting something creepy. Gripping. Intense.

What I actually read was a book that was lame, boring, and anticlimactic. To add to the dullness, Compulsion was actually a bit shallow. I'm sorry, this isn't meant to be a fluffy contemporary, so can you blame me for wanting something more? I bet you can guess what sound I was constantly making throughout this book (hint: it's in the title).

The book starts off all right. I'll admit the obligatory my-parents-are-dead-so-feel-bad-for-me plot device kind of set things up for a rough start (to a book that only got worse, I must add). Eight was Prince Charming in that he was oh so perfect but intolerably flat with that pretty-boy personality. I can guarantee you, if the protagonist didn't think he was hot, she wouldn't even pay attention to him (I guess that's how most YA books work...) because he displays very little redeeming qualities that make him unique.

Compulsion relies far too heavily on YA fantasy tropes--that really only succeed in annoying me--so I was unable to enjoy the story. Apart from that, there is very little conflict that when it does make an appearance, the immaturity of it was laughable. Furthermore, I'm dying to know: WHERE WAS THE AFOREMENTIONED PARANORMAL? Why did it feel like I was reading a crappy chick-lit? I need answers, yo.
I guess I should discuss the main character, Barrie. Or was it Clary? Lena? Nikki? Sorry, I forgot her name in the sea of YA protagonists that are uncannily similar to each other. Wait.
Normally, I'd say a story like this has a lot of potential, but Compulsion really doesn't. I like the author's writing, so I'll hopefully pick up her upcoming books, but if it's part of this series, I'd have to decline.