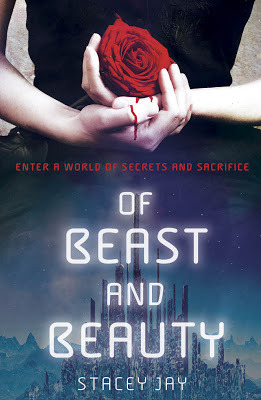 Title:
Of Beast and Beauty
Author:
Stacey Jay
Publication Date:
July 23, 2013
Genre:
Fantasy
In the beginning was the darkness, and in the darkness was a girl, and in the girl was a secret...
In the domed city of Yuan, the blind Princess Isra, a Smooth Skin, is raised to be a human sacrifice whose death will ensure her city's vitality. In the desert outside Yuan, Gem, a mutant beast, fights to save his people, the Monstrous, from starvation. Neither dreams that together, they could return balance to both their worlds.
As secrets are revealed and Isra's sight, which vanished during her childhood, returned, Isra will have to choose between duty to her people and the beast she has come to love.
-Goodreads
Oh, how refreshing it is to read a YA fantasy novel that is
not
part of a series.
How
invigorating
it is to read of a fairytale that stays faithful to the original while deviating from the standard to create a world that is incomparable in characters and prose.
Recently, I read a novel based on Beauty and the Beast --
Cruel Beauty
, by Rosamond Hodge (
here is ze review
) and while I do admit it was quite good, albeit peculiar, it didn't
wow
me as much as I'd hoped it would. That cannot be said of Jay's novel. I went in with fairly average expectations and finished with bittersweet tears streaming down my face. To say I was
wowed
does little justice to the novel.
What did I read? I read a novel that was authentic and deep, romantic and heart-breaking. It was equal parts hopeful and crushingly bleak -- perfect for an emotional masochist like me. I hate sounding vague but attempting to expand my thoughts is fruitless when it comes to Of Beast and Beauty; I am utterly tongue-tied.
Title
: What Happened to Goodbye
Author
: Sarah Dessen
Publication Date
: May 10, 2011
Genre
: Contemporary
Who is the real McLean?
Since her parents' bitter divorce, McLean and her dad, a restaurant consultant, have been on the move-four towns in two years. Estranged from her mother and her mother's new family, McLean has followed her dad in leaving the unhappy past behind. And each new place gives her a chance to try out a new persona: from cheerleader to drama diva. But now, for the first time, McLean discovers a desire to stay in one place and just be herself, whoever that is. Perhaps Dave, the guy next door, can help her find out.
Combining Sarah Dessen's trademark graceful writing, great characters, and compelling storytelling,
What Happened to Goodbye
is irresistible reading. -
Goodreads
What went wrong, Ms. Dessen? Was it the high expectations, or my bad streak with the contemporary genre? This is my first ever book from you, and I am displeased. I have a lot of respect for you and your experience in the YA genre, but to be honest I don't know what makes this novel different from the millions of other contemporary novels out there.
From the start, I was unable to connect with a vast majority of the characters. The story-line was practically non-existent and, therefore, the book was a chore to read. The writing wasn't all that great; it leaned towards the melodramatic and certainly isn't the best of genre. As for "compelling storytelling?" My frequent yawns should be enough to disprove this.
I understand what Dessen was aiming for, but this is an ultimately forgettable read. I'm not ready to give up on Dessen just yet, but my disappointment with this might discourage me from picking up one of her more promising reads.