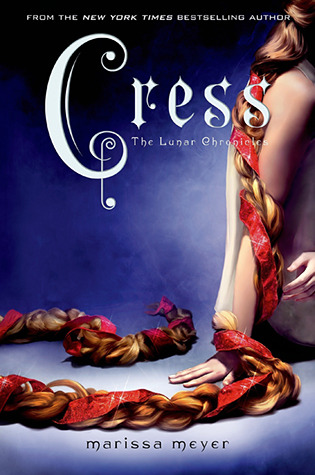 Title:
Cress (The Lunar Chronicles #3)
Author:
Marissa Meyer
Publication Date:
February 4, 2014
Genre:
YA Fantasy
In this third book in the Lunar Chronicles, Cinder and Captain Thorne are fugitives on the run, now with Scarlet and Wolf in tow. Together, they're plotting to overthrow Queen Levana and her army.
Their best hope lies with Cress, a girl imprisoned on a satellite since childhood who's only ever had her netscreens as company. All that screen time has made Cress an excellent hacker. Unfortunately, she's just received orders from Levana to track down Cinder and her handsome accomplice.
When a daring rescue of Cress goes awry, the group is separated. Cress finally has her freedom, but it comes at a high price. Meanwhile, Queen Levana will let nothing prevent her marriage to Emperor Kai. Cress, Scarlet, and Cinder may not have signed up to save the world, but they may be the only hope the world has. -
Goodreads
It should come as no surprise that despite finishing this about eight months ago, I still get hit by a train wreck of feelings and gush whenever I so much as glance at the cover. In short: I LOVED THIS.
And why shouldn't I? I went in with high expectations and finished with my expectations fulfilled and more.
THORNE.
AND CINDER.
AND EMPORER FREAKING KAI. (I SHIP KAI AND CINDER SO HARD.)
As for Thorne, I ship him with myself. *grins*
Like
my review of Scarlet
, the previous installment, I don't think I'll be able to stop gushing.
Cress
, like
Cinder
and
Scarlet
, has absolutely no shortage of action or heartbreak or asdfghjkl; At first, I thought the story had too many characters and too much story to fit into one series, but like everything else Marissa Meyer does, she did not only satisfy, but she kicked ass and made every other retelling out there dim in comparison.
My face whenever I read these books
And I truly don't care if I'm rating this book mostly on entertainment value. I'm sorry, but if a book manages to stay with me for this long and affect me to this extent then I sure as hell will give it 5+ stars.
I think one of Meyer's best talents is not writing or worldbuilding or pacing, (and those are
superb
) but
characterization
. There is such a large cast of characters in this book, but each one of them I love and know as if they are my own children (if I had children like Iko or Cinder I'd be one happy mother.)
I've been needing the next installment since I read the first word of
Cress
, but that last scene? Yes, you know what I'm talking about. I thought I was a Kai fan before, but it morphed into obsession once I finished
Cress
.
NEED. WINTER. NOW.
Fairytale-retellings and I go together like peanut butter and jelly. I will never get enough of them. But I must applaud Meyer for making an otherwise wary reader of dystopia into a die-hard fan of this series. I normally stay away from YA dystopia like the plague (for multiple reasons that I won't go into at the moment) but after reading The Lunar Chronicles I've gained hope for this genre.
I apologize if my review isn't actually a review but merely an extended fangirl session. #sorrynotsorry