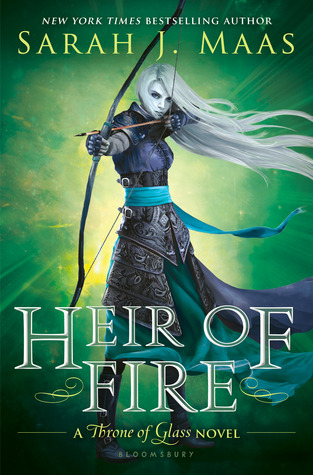 Title:
Heir of Fire (Throne of Glass #3)
Author:
Sarah J. Maas
Publication Date:
September 2, 2014
Genre:
High fantasy
Lost and broken, Celaena Sardothien's only thought is to avenge the savage death of her dearest friend: as the King of Adarlan's Assassin, she is bound to serve this tyrant, but he will pay for what he did. Any hope Celaena has of destroying the king lies in answers to be found in Wendlyn. Sacrificing his future, Chaol, the Captain of the King's Guard, has sent Celaena there to protect her, but her darkest demons lay in that same place. If she can overcome them, she will be Adarlan's biggest threat – and his own toughest enemy.
While Celaena learns of her true destiny, and the eyes of Erilea are on Wendlyn, a brutal and beastly force is preparing to take to the skies. Will Celaena find the strength not only to win her own battles, but to fight a war that could pit her loyalties to her own people against those she has grown to love?
-Goodreads
3 Stars
Thank you Bloomsbury for sending me this copy, which did not affect my review in any way!
Slight spoilers for Throne of Glass.
Oh, hey, there. Were you reading this review to decide whether or not you should read
Heir of Fire
? Well, let me warn you from here: I myself am horribly conflicted and this uncertainty will reflect throughout the entire review. If you enjoy reading a review with a teen girl sputtering on and on, then you are welcome to be entertained at my expense.
Based on complicated thought processes and hours of analyzing (not really) I've come to the conclusion that Heir of Fire by Sarah J. Maas will receive my normally default rating of 3 stars. We shall begin.
(I hope you read the above paragraphs in a facetious tone because I certainly did.)
Let me begin by saying how much of a literary crush I have on Sarah J. Maas. You know those "ideal qualities" every reader wishes for in a book? Personally, mine include intricate worldbuilding, unique characterization, etc. Authors that pay close attention to these subjective "ideal qualities?" Their books are like the Holy Grail of YA. Sarah J. Maas is one of these elite authors, at least in my book. She combines the ideal elements (heh, pun intended for only those who have read
Heir of Fire
) that I dream of and creates this masterful cornucopia of well-thought out characters and conflicts and worlds. She isn't afraid to make her own rules and you know what? SHE is the trendsetter of the YA high fantasy genre. *high fives*
With all this gushing, you'd expect me to love the book. Not always the case for me, especially in the past few months. Case in point:
Dreams of Gods and Monsters
by Laini Taylor. See, I am a die-hard fangirl of Taylor; in my opinion, every word she writes is pure gold. However, I did not love her final installment of the
Daughter of Smoke and Bone
series. Perhaps it was slightly my fault for the unrealistically high expectations, but the actual novel itself fails in many aspects. Yes, she did hit on my "ideal qualities," but overall the execution of these qualities was lacking and the engagement factor was at a much lower level than her previous works.
This is exactly what happened with
Heir of Fire
.
Now that I've skirted around the topic enough, let me get to the crux of the review: what specifically hindered my enjoyment of a seemingly flawless novel.
I'll get this out of the way: for the majority of the book, the plot was as slooow as a turtle, aside from the few omy-gosh-I-can't-stop-reading moments. As such,
sometimes this was a bore to read, sometimes it was highly entertaining, and at others, it blatantly stalled.
I felt like the author was leading up to something HUGE; I was thinking, okay, maybe Maas is deliberately bulldozing us with heaps of information to catch us off guard with a scene that will reel all readers. We kind of did get this in the last 50 pages, but considering this was an almost 600 page book, I was expecting more.
Perhaps the biggest downfall of this novel was the numerous point-of-views. As a reader, I tend to dislike having more than one point-of-view--unless it is absolutely necessary--because a) I usually only care for one of the character's POV and b) because the book ends up feeling disjointed.
In the case of Heir of Fire, I really only cared for Celaena's POV
, and maybe another character's if an important event occurred, but for a bulk of the novel, I was supremely annoyed. Do I care about Manon or the Thirteen? Do I care about Sorscha's relationship? Do I want to listen to Aedion's never-ending internal monologues? All of these contributed to my aforementioned boredom and lack of engagement.
This indifference took away from my emotional investment in the book.
For a majority of the novel (EXCLUDING THE END UGH) I felt horribly detached from the story even when I really, really made an effort to show more interest.
Speaking of which, I noticed that most of the plot elements/characters I disliked were ones that were new to the series, such as Manon and Sorcha's romance. (Not Rowan. He was perf.) They felt very un-Maas-like and at this point I'm questioning whether their presence was really necessary at all in
Heir of Fire
. On the flip side, though, everything Sarah expanded on from the previous novels was remarkable. Chaol was delved into even more intimately (though he was annoying at times), Dorian grew a backbone, and the magic was described in detail. Oh, that was one of the more brilliant parts of the novel.
Now that I've deposed of my negativity, I shall discuss the good stuff!
even if I wish there were far more of it
It's not a surprise that Maas's writing was as beauteous as ever; it does the high fantasy genre justice, my fellow nerds.
I wish I could devote a whole review to the badass that is Celaena (which I originally did but then remembered I have to talk about other stuff). Remember that chick from the first book? The I-need-to-kill-someone-but-I-have-to-get-my-nails-done-first girl? (Okay, in her defense she didn't actually do that. But be honest: would you be surprised if she did?) Yeah, that girl is dead. She's no longer in the series.
We lost that girl in Crown of Midnight, thankfully.
Did I already say how much of a badass Celaena is in this one? Well, I'll say it again. Her overall character arc was absolutely brilliant, especially since this book has a more personal scope and focuses on her hardening strength and growth into a woman. Maas unflinchingly chronicles Celaena's trials and errors as she attempts to master her inner magic and gives us a deeper look into the assassin we know and love.
This may not have been an action-filled book, but damn, it was a powerful coming-of-age tale.
The last 50 pages of the book are without a doubt five-star-worthy. It's the rest of the book with the millions of POVs that brings the book down. Rest assured, though, there
was
badassery throughout, especially in Celaena's POV.
You want some magical high fantasy with superb worldbuilding? Read this book. But you may have to lower your super high expectations that
Crown of Midnight
set.