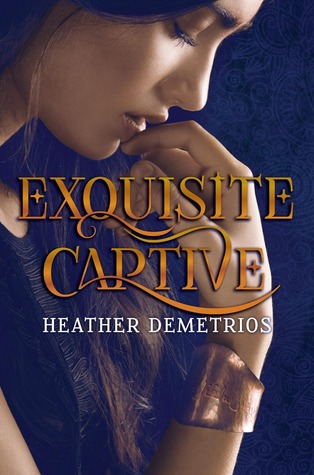 Title:
Exquisite Captive (Dark Caravan Cycle #1)
Author:
Heather Demetrios
Publication Date:
October 7, 2014
Genre:
Fantasy
Forced to obey her master.
Compelled to help her enemy.
Determined to free herself.
Nalia is a jinni of tremendous ancient power, the only survivor of a coup that killed nearly everyone she loved. Stuffed into a bottle and sold by a slave trader, she's now in hiding on the dark caravan, the lucrative jinni slave trade between Arjinna and Earth, where jinn are forced to grant wishes and obey their human masters' every command. She'd give almost anything to be free of the golden shackles that bind her to Malek, her handsome, cruel master, and his lavish Hollywood lifestyle.
Enter Raif, the enigmatic leader of Arjinna's revolution and Nalia's sworn enemy. He promises to free Nalia from her master so that she can return to her ravaged homeland and free her imprisoned brother—all for an unbearably high price. Battling a dark past and harboring a terrible secret, Nalia soon realizes her freedom may come at a price too terrible to pay: but how far is she willing to go for it?
Inspired by Arabian Nights, EXQUISITE CAPTIVE brings to life a deliciously seductive world where a wish can be a curse and shadows are sometimes safer than the light.
-Goodreads
Thank you Balzer+Bray for sending me this copy in exchange for an honest review!

Oh, Lord. I hate to admit this, but I was relieved to call it quits after resentfully trudging through 162 pages of dryness. There were quite a bit of problems I had with this book--mostly personal issues as opposed to technical--and they all hindered my enjoyment of the novel tremendously. I was very much anticipating this book, and the issues I had with it coupled with the immense amount of hype it had been receiving resulted in a very disappointed girl.
A few months ago, I read
The Fire Wish
and
reviewed it
. I quite liked it and thought it was a step in the right direction for the Middle Eastern fantasy genre. The same, however, cannot be said of
Exquisite Captive
. I am of Middle Eastern decent, so I know a bit about Jinn. To be frank, I don't really like how Demetrios handled the topic of Jinn; her approach just doesn't sit right with me. Maybe I didn't read enough of the story for me to make a fair assessment of this, but as far as I got, I did not feel any
sense
of Arabic folklore the synopsis boasts of. It felt as if I was reading some over-exoticized, cliched version of an authentic tale that tries way too freaking hard to be "oriental."
Hey, blame the summary for my uncharacteristically high expectations.
What bothered me the most, or rather
who
, was the master, Malek. The guy just made me extremely uncomfortable. The image I had of him was one of those stereotypical Saudi oil men you see in movies with a ton of money and nowhere to put it. He was abusive and violent, and the fact that he would become a potential love interest later on made me reluctant to continue.
Raif, the revolutionary leader, was just an all-around jerk. And Nalia somehow found his jerk-ness admirable???
Speaking of the protagonist, no matter how hard I tried, I simply could not sympathize with Nalia. She wasn't unlikable, per se, but it was difficult for me to see from her point of view. Her awe-inspiring beauty was shoved down my throat numerous times that I had to stop myself from throwing the book at the wall. Based on the back-story we were given, she undoubtedly had a cruel past, so does that make me a horrible person if I didn't really... care? (Don't answer that.)
As I said, the overall atmosphere was overly exoticized, mostly due to the relentless worldbuilding. There were constant references to... a war? Different races of Jinn? It wasn't explained very well so I was left feeling confused instead of intrigued. Alongside these tirades would be pages upon pages describing Malek's mansion and Nalia's beautiful dresses and the lavish parties and materialistic things
I didn't care about
. Can you blame me for DNFing?
I can definitely see the appeal in
Exquisite Captive
, and it'll most likely be a successful series, but it just didn't work for me nor did it hold my attention captive (see what I did there). I'd recommend to those who like fantasy with a heavy dose of romance.