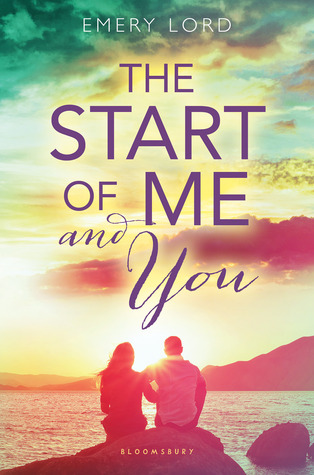 Title: The Start of Me and You
Author: Emery Lord
Publication Date: March 31, 2015
Genre: Contemporary
Thank you Bloomsbury for a copy of this book, which did not influence my review in any way.
Everything I disliked about
Open Road Summer
--the girl-hating, the drama--was nonexistent in
The Start of Me and You
and everything I loved--the relationships, the writing--was improved tenfold.
Don't let the cover fool you, because this is
far
more than a love story. It's the story of four best friends: Paige, Tessa, Kayleigh, Morgan. By the end of the story, you'll love them so much, that you'll want to have friends like them. Also, Tessa? Can I be your best friend?
(Aside: This will probably sound really vain, but Tessa is exactly like me. She's short, outspoken, loves indie music, and is a nerd but is a complete slacker. Why I want to be best friends with someone that's apparently exactly like me is beyond me, but I digress.)
I think one of the reasons why this appealed to me so much was that it was reminiscent of
Saving Francesca
by Melina Marchetta--which, if you didn't know already, I LOVE. It was the heartbreak and loss dripping from the writing and the well-written characters that drew me to this comparison. Really, the fact that this is anything like a Marchetta book should force you to go running to the store to buy a copy of this.
ALSO I LOVE MAX AND HIS NERDINESS BEST LOVE INTEREST EVER IF I MET A GUY LIKE HIM I WOULD MARRY HIM IN AN INSTANT I DON'T CARE THERE WERE TOO MANY FLAILS WHILE READING THIS ASDFGHJKL;
Ahem. So yeah, as you can tell, I loved this book to bits. If you feel like you're missing something from your life, it's probably
The Start of Me and You
.